Late last year, Pure Pilates welcomed Jennifer Lee, a longtime dancer and Pilates instructor, to our team. Jennifer, whose family moved from the East Coast to Traverse City this past fall, first learned of mat Pilates in the mid-1980s followed by reformer Pilates a bit later, in 1992. But it was in 2000, while living in New York City, when Jennifer spent considerable time practicing Pilates. And in 2002 she started teaching. "I was dancing in several modern dance companies and teaching as a visiting artist throughout the New York Public School system," she says. "My former dancer colleague had moved east too, just completed her Pilates certification and opened a studio in Englewood, New Jersey. She was expanding fast and needed help. She invited me to come take a session with her to see if I would like to become a teacher, and I was hooked!"
Read on for more about Jennifer, who lives Old Mission Peninsula with her mother, husband, and their 8-year-old twins, and her approach to teaching Pilates:
What was it about Pilates that attracted you to the practice?
The reformer, Cadillac, barrel and chair gave me such a great connection to my core. I saw an immediate improvement in my dancing and performance, and others saw it, too! I loved it. My program required many private sessions with other Pilates instructors throughout Manhattan. My mind was spinning. With all of my dance background – training in Bartenieff, Laban, Alexander, Yoga, and Release Technique, experience in multiple dance styles, and studies in kinesiology, anatomy, and dance pedagogy – I was bringing a lot to the "reformer." It took a while to filter through the various bits of knowledge I had collected to get to what the Pilates Method was really about.
How would you describe your teaching style?
I encourage exploration, empower choices and educate folks about how the body moves. Then I ask them to figure out how THEIR body moves. Also, I am always interested in the "how" as it relates to movement – not just "do this." It must be from my days as an engineering major, long ago. I consider myself a Movement Educator and Pilates is a wonderful platform on which to do that. It's a system that works and brings joy and understanding to so many. Personally, I delight in watching the human body move and thrill to be able to direct it into a place of greater awareness, connection and strength. I deeply believe in the transformative power of mindful movement to lift the spirit and open our hearts and it pleases me to give that to others.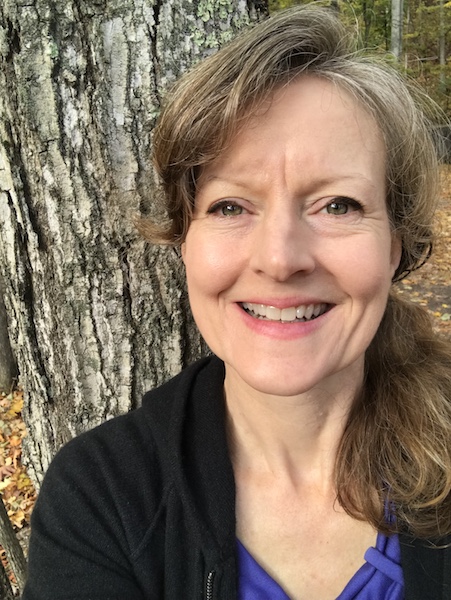 You grew up downstate, between Belleville and New Boston. What made you think about moving north when you made the decision to move from NYC?
My parents moved to Traverse City in the early 1990s and built their own home on East Bay. For many years, I visited my folks for holidays and vacations, and one day I thought, "Hey, why don't I take some classes while I'm here?" I sampled the Pilates studios, and came upon Pure Pilates. I immediately liked the studio, and was impressed by the quality of their instructors and their challenging classes. I would always go home with new ideas and my clients in New York would groan and say," Oh, what did you learn now?!"
What do you like about teaching at Pure Pilates?
Teaching at Pure Pilates has been a delight. I learn from everyone here. Whether it's a new exercise, an insightful cue or extremely thorough client notes, my fellow teachers are inspiring with a commitment to excellence. And the clients are absolutely lovely! They are open to what I'm saying and they are "trying on" what are, sometimes, new ideas. I learn from seeing them learn, and that exchange between student and teacher is essential to continue growing as an instructor.
There are many things I love about Pilates, but two main things that are recurring themes for me are using the system to find and restore your imbalances and moving from center. When we take time to move from a deep, inside place where you are connecting closely to the bones and joints that originate your movements, new things are possible. Exploration, discovery, surprise, delight, transformation. Love that.
—
Ready to get started working with Jennifer and our team at Pure Pilates? Learn more here »