Last month, our Pure Pilates community lost Lois Jean Schmidt, 86, a beloved and longtime client who was a passionate advocate of Pilates and how it can transform lives. Instructor Kim Marian shares how she came to know Jean in 2012 and what it meant to work with this strong woman.
Jean started with Pure Pilates in 2009 working with Kylee Bonne in our original studio. Yes, Jean climbed that steep, narrow staircase on a regular basis. When Kylee was injured after being hit by a car in 2012, I had the good pleasure of working with Jean, then in her late 70s.
Jean was diagnosed with scoliosis in her early years and her family elected not to pursue surgery, which Jean appreciated despite her increasing curvature. Her scoliosis was quite severe with curves rendering her to stand just less than 5'0", but her limbs suggest she should have been 5'10". We called her anatomy "creative," which she appreciated.
She started Pilates after reading about how good it was for posture and core strength. Until her final weeks in this life, she attended two private sessions per week, rarely missing. As her age increased along with her curvature, Pilates helped her regain some height, albeit temporarily, and acquire some tools to use at home to help find that height once again. To an onlooker, our sessions were not challenging. To her, they were her lifeblood. She could stand taller, breathe stronger, and move easier than when she walked in the door.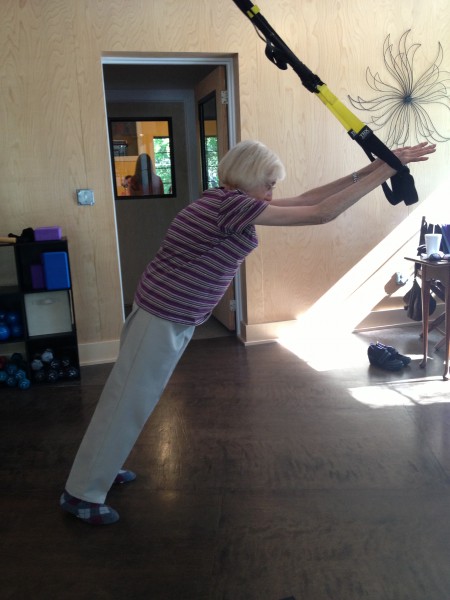 For a short while, Jean was in a reformer group with two other ladies. That group would occasionally do jumpboard, which Jean thought was great fun. As her years increased, her jumpboard use decreased. Instead, with my help, she was willing to try some of the emerging myofascial work. For all the exercises we did – Cadillac, Reformer, Mat, Chair, TRX – the myofascial work by far was the most impactful. For someone with as severe a curvature as she had, the breath work and emphasis on connective tissue led to profound results.
Toward the end, she complained of "panting" episodes. A more severe panting episode struck one weekend when her beloved physician was unavailable. She used some of the breathing exercises we did in our sessions to bring her breath rate back to normal and resumed her day playing with her two cats and attending activities at her church.
Jean was famous for recommending Pilates to anyone she met – and I mean anyone. The checkout person at Walmart with poor posture. The Edson Farms employee who complained of an achy knee. A fellow shopper at Meijer who leaned a bit too heavily on her cart. Literally, anyone. Jean handed out so many of the studio's rate cards and business cards, we were constantly running low on supply.
Working with Jean was a highlight of my week. She is a large reason I chose to specialize in helping people with postural challenges and/or who are post-rehab. With simple movements, we made very positive changes for Jean. My husband would always remark at how I "lit up" when talking about Jean and our Pilates sessions together. Jean consistently had a kind word and always a positive outlook. Jean struck up a conversation with most anyone in the studio when she came for a session. Occasionally they lasted longer than time allowed as Jean had the gift of gab and a sparkle of innocent mischief in her eye.
Now in heaven, Jean is reunited with her late husband, John, and her beloved cats. Surely she and Kylee are doing Pilates together, smiling at us with a hint of mischievousness. The next time a flex band snaps unexpectedly or a ball suddenly deflates, look to the heavens and listen for her giggle.
Jean, thank you for all that you brought to me and my family. May God keep you close, as you are one of the good ones.